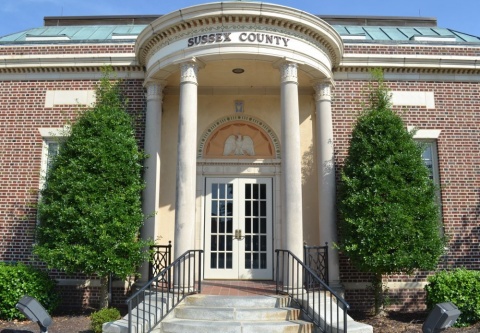 Georgetown, Del., Nov. 28, 2017: Sussex County Council has postponed the scheduled public hearing on the proposed 'special events' ordinance amendment following a power failure that left Council chambers and the County government complex in the dark Tuesday afternoon.
Council voted to defer the public hearing after finishing other business during an afternoon session disrupted by the power failure. The outage began around 3:15 p.m., affecting various portions of downtown Georgetown; power did not resume until approximately 4:30 p.m. There was no information available on what caused the outage.
The hearing will be advertised, per State law requirements, and rescheduled as quickly as possible, with a new hearing date likely in early January 2018. The County will provide an update when the hearing is rescheduled.
"For the safety and convenience of the public, the Council felt it best to conclude today's meeting so we can give this ordinance the fair and complete hearing it deserves," said County Administrator Todd F. Lawson. "This matter has garnered a significant amount of interest, and given that it may involve several hours of testimony, the Council believed it was appropriate to reschedule the hearing for another date when the chambers would have proper lighting and ventilation. We apologize for any inconvenience, but we are hopeful the public understands."
For updates on the public hearing schedule, visit www.sussexcountyde.gov/ordinances.
###
Media Contact
Chip Guy, Communications Director