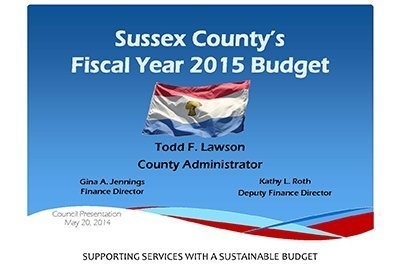 Georgetown, Del., May 20, 2014: Sussex County is continuing a tradition a quarter century in the making, proposing a relatively level budget for the year ahead that again keeps local government spending in check while keeping more silver in taxpayers' pockets.
County leaders on Tuesday, May 20, 2014, unveiled the proposed $117.3 million budget for the 2015 fiscal year, an overall plan that is down by just $400,000, or nearly .3 percent, from the current year's $117.7 million budget. The decrease is mostly the result of reduced expenses in both the general and sewer fund portions of the budget as projects, including the new Greenwood Library and the first phase of the Sussex County Airport Runway 4-22 extension, were paid for and completed in the current budget year.
As expected, the proposed budget keeps in place the County's property tax rate of 44.5 cents per $100 of assessed value, making this the 25th consecutive year – a silver anniversary of sorts for taxpayers – without an increase. The average County tax bill for a single-family home remains around $100 annually, not including independent school district taxes.
"We are very optimistic that the local economy is making its way back, based on some very strong indicators from the housing sector. But we don't want to get ahead of ourselves, so as a result the County continues to budget cautiously," said County Administrator Todd F. Lawson, who presented to County Council the proposed budget for the fiscal year that begins July 1. Mr. Lawson was joined by Finance Director Gina A. Jennings and Deputy Finance Director Kathy L. Roth in proposing the 2014-2015 plan.
The most significant changes constituents will notice in next year's budget will be in the form of sewer connection and service fees. Following an effort over the past few years to establish consistent pricing for public wastewater service, the County will begin phasing in a unified, one-time sewer connection fee for new users. Meantime, quarterly sewer service rates for existing and new customers – the County currently serves approximately 58,872 users -- will increase by $8 in most cases; one district, Long Neck, will increase by $15.
While the overall budget is down, the general fund portion of the budget is expected to rise by 3.6 percent, or $1.8 million. That is due in part to an expected surplus later this year, as well as an expected increase in investment income, new assessments from new construction, and a continued rise in building inspection fee collections. The general fund portion of the budget pays for day-to-day operations and services offered by County government.
Other highlights include:
Grants to fire companies, police departments, libraries and community groups are either maintained at current levels or increased in some cases. In the case of volunteer fire and ambulance companies, the County expects to distribute more than $3.4 million next year, up $100,000 thanks to an increase in building permit revenue;
A 2 percent cost of living adjustment (COLA) for employees. Other benefits, including health insurance, vacation, sick leave and holidays, remain intact, while a new 3 percent salary contribution plan for new hires after Jan. 1, 2014, goes into effect. The zero-contribution pension plan for employees on staff prior to Jan. 1 will remain in place;
The inclusion of $230,000 in funding to continue the County's efforts to digitize records, including a planned shift from paper to e-records for Planning & Zoning application cases and maps for online public inspection;
Realty transfer taxes will continue to be the County's largest source of income, with $16 million budgeted in Fiscal Year 2015, though the final collected amount – as it has been in Fiscal Year 2014 – could run higher. Any revenue collected over that $16 million figure will be deposited directly into capital for future projects.
County leaders say the new budget continues a trend of conservative spending, and stressed the County will continue to look for savings by reducing purchases, limiting new hires, and cross-training employees.
"The County continues to operate with fewer staff than before the housing crisis that began in 2008. While revenues the past couple of years have begun to move upward, the County understands the past has a way of repeating itself," Finance Director Jennings said. "We want to make sure the budget is sustainable if revenues fall back to recession levels."
County Council President Michael H. Vincent praised the budget team for once again putting together a budget that balances the County's practical needs with today's economic realities.
"The taxpayers, the customers we serve, have come to expect a certain consistency in how their dollars are used and managed," President Vincent said. "The County is proud to continue a tradition of affordable services and sound fiscal management."
County Council will hold a public hearing on the proposal during its 10 a.m. meeting Tuesday, June 17, 2014, in council chambers at the County Administrative Offices building, 2 The Circle, in Georgetown. The public can comment in person on that date, or submit comments through the web at budget@sussexcountyde.gov. By law, Council must adopt a budget by June 30.
###
A copy of the proposed Fiscal Year 2015 budget, as well as the accompanying budget presentation, can be downloaded from the County's website at sussexcountyde.gov/county-budget.
Media Contact
Chip Guy, Communications Director