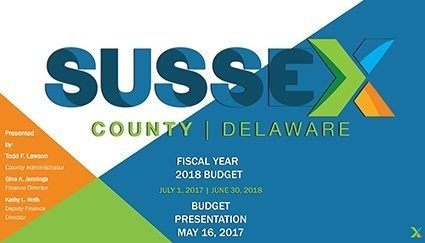 Georgetown, Del., May 16, 2017: Sussex County is keeping the public a priority in the year ahead, promising to put more dollars into public safety, public Internet and public wastewater projects under a proposed budget plan now before County Council.
County leaders on Tuesday, May 16, 2017, unveiled the proposed $143 million budget for Fiscal Year 2018 to fund a variety of County services and projects, including, among others, public safety, libraries, building inspection, wastewater treatment, and community improvements.
The proposed budget keeps day-to-day operational expenses in check, limits fee increases, and holds the line on County property taxes – familiar budget themes in Sussex County over the years. But it invests significant new dollars, pulled from cash reserves, to maintain or expand critical services and infrastructure, including police, paramedics, upgraded wastewater systems, and a pilot program to expand broadband Internet service into more rural parts of the county.
"This has been one of the more difficult budgets to write because of the uncertainty, particularly as it relates to the State budget," said County Administrator Todd F. Lawson, who presented to County Council the proposed budget for the fiscal year that begins July 1. "However, I believe what we are recommending here is a good-faith effort to balance the expectations of the County and the services it provides while being sensitive to our shared financial reality."
Among some of the major highlights in the proposed budget, the plan includes:
Increased funding for the County's contract with the State of Delaware for 22 additional state police troopers to be assigned to Sussex County, up about $700,000 from $2.2 million in FY2017 to $2.9 million next year;
A $1 million allocation of startup funds to begin a pilot project with the State of Delaware to install fiber optic cabling in an effort to expand high-speed Internet to rural parts of the county, where service from wired and wireless providers can be limited;
Funding to increase around-the-clock paramedic coverage in the Seaford/Blades area, as well as plan for and construct two new freestanding EMS stations in the Seaford/Blades and Dagsboro districts;
More than $8 million in capital funding to begin phased, major upgrades at the County's South Coastal, Inland Bays, and Wolfe Neck regional wastewater facilities to as much as double treatment capacity, as well as create interconnections with other public and private utilities to better manage loads during peak demand and wet seasons;
Approximately $3.4 million to develop the newly acquired property next to the Sussex County Industrial Park outside Georgetown into a business park;
No change in current property tax rates, sewer and water service charges, or building permit fees; however, increases are proposed for one-time sewer connections, plan review, and various Marriage Bureau fees.
Council President Michael H. Vincent praised the budget team, including Mr. Lawson, Finance Director Gina A. Jennings, and Deputy Finance Director Kathy L. Roth, for crafting a plan that is both sensible and forward-thinking. "This budget makes some serious investments for Sussex County's future, and I think the public appreciates once again their government responding to their needs without breaking the bank," President Vincent said.
County Council will hold a public hearing on the proposal during its 10 a.m. meeting Tuesday, June 13, 2017, in council chambers at the County Administrative Offices building, 2 The Circle, in Georgetown. The public can comment in person on that date, or submit comments through the web at budget@sussexcountyde.gov. By law, Council must adopt a budget by June 30.
To view a copy of the proposed Fiscal Year 2018 budget, as well as the accompanying budget presentation, visit www.sussexcountyde.gov/county-budget.
###
Media Contact
Chip Guy, Communications Director