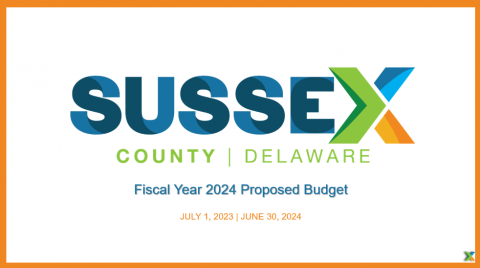 Georgetown, Del., May 23, 2023: Sussex County is staying within its means, proposing a budget plan for next year that largely keeps the local government's familiar fiscal status quo.
County officials on Tuesday, May 23, 2023, unveiled the proposed $278.6 million budget for Fiscal Year 2024 to fund a variety of local services, including 911 dispatchers, paramedics, and other public safety, as well as pay for sewer expansions, continued open space preservation, and a contribution for a new state park recreation project.
While the yearly plan is the third in a row for the County to near the $300 million mark, it is down some $15 million, or 5.3 percent, from the current year as capital spending is down and federal funding from the American Rescue Plan Act cycles out. The property tax rate is unchanged.
"Sussex County remains on solid footing fiscally, but this is a no-thrills, no-frills, no-surprises kind of budget," said County Administrator Todd F. Lawson, who presented to County Council the proposed budget for the fiscal year that begins July 1. "Given the current economic climate, it's important to keep costs and expenses in check. Thankfully, we have been able to do that, while still delivering the same level and quality of services to our customers."
Among the highlights in the proposed FY2024 budget, the proposal includes:
$66.1 million for wastewater infrastructure, including new sewer mains, increased treatment capacity, and other upgrades to the County's utility systems;
$7.4 million to preserve open space and farmland that could otherwise be developed;
Increased funding, from $3.8 million to $4.1 million, for the County's contract with the State of Delaware for 23 supplemental state police troopers assigned to Sussex County;
$3.4 million in funding to pay for the continuing court-ordered property reassessment;
$2 million for the design, planning, and construction of paramedic stations in the Dewey Beach, Lincoln, Millsboro, and Milton areas;
$5.7 million for local fire companies and ambulance squads to help with operational costs, including paid EMT salaries;
Funding for three new positions to meet demand in the County's wastewater operation; meantime, while the County general fund's overall employee count remains unchanged, due to departmental shifts, four additional paramedics are slated for hire next year;
A $1.5 million contribution to the State, using the County's realty transfer tax reserves, for the construction of an aquatic recreational facility at Trap Pond State Park near Laurel;
No change in current property tax rates, though a number of fee increases are proposed, including $10 annually for sewer and $15 annually for unmetered water on public utility systems, as well as new and adjusted fees for a variety of engineering services.
Revenue for County government comes through a variety of sources, including property taxes, realty transfer taxes, building permits, and other service fees.
Council President Michael H. Vincent praised the budget team, including Mr. Lawson, Finance Director Gina A. Jennings, Deputy Finance Director Kathy L. Roth, and Manager of Accounting Andrea Wall for developing a tempered plan, even as inflation, while cooling, continues and overall economic questions remain. "There's still a lot of economic uncertainty out there, with the federal debt ceiling debate and concerns about a potential recession later this year," President Vincent said. "I'm pleased that, at least here in Sussex County, we can give the public some measure of confidence in knowing that their tax dollars are being used wisely to provide affordable, high-quality services they can see and use every day."
County Council will hold a public hearing on the proposal during its 10 a.m. meeting Tuesday, June 20, 2023, in council chambers at the County Administrative Offices building, 2 The Circle, in Georgetown. The public can comment on that date, or submit comments through the web at budget@sussexcountyde.gov. By law, Council must adopt a budget by June 30.
To view a copy of the proposed Fiscal Year 2024 budget, as well as the accompanying budget presentation, visit www.sussexcountyde.gov/county-budget.
###
Media Contact
Chip Guy, Communications Director