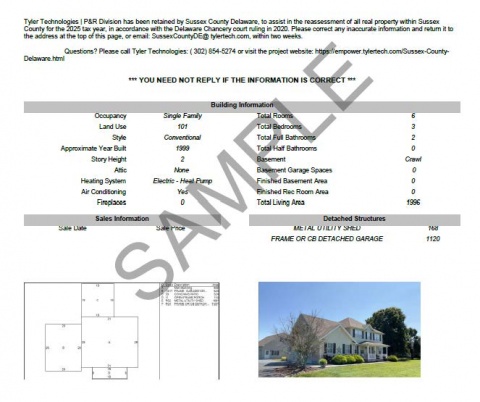 Georgetown, Del., Oct. 10, 2023: Sussex County homeowners soon will have an early glimpse into the future of their properties' values.
Beginning later this month, 'data mailers' will go out to residential property owners in the Georgetown area, with other areas set to receive their notices through spring 2024 as Sussex County's court-ordered reassessment project continues. The mailers contain various information about each parcel and home present, such as the year a structure was built, number of bedrooms and bathrooms, basement data, garage space, detached structures, a sketch/photo of the building and other specs, as applicable.
It's the latest step in an ongoing effort to revalue all properties in Sussex County and across Delaware, following a lawsuit over outdated property values that was settled among the three counties, State, and litigants in 2021. Assessments are used in the calculation of annual property taxes, with revenue collected for local government services and public education.
The forthcoming 'data mailers', in a standard business envelope marked with a 'Sussex County Tax Assessment' header and return address, will feature preliminary assessment information about each residential parcel. Only property owners with a dwelling on their parcel will receive a mailer; vacant properties and commercial sites will not receive such notices.
The 'data mailers' offer property owners a chance to review and confirm or correct any information which could affect their property's future assessed value. The forms offer detailed instructions for completing the form, making corrections, as well as a glossary of terms.
The goal of the mailers is to ensure accuracy and the highest level of assessment data, said County Assessment Director Christopher Keeler. "It's in property owners' best interests to make sure the information is correct so that the County has an accurate assessment for their tax bill," Mr. Keeler said.
Property owners who receive a 'data mailer' and have questions or concerns can contact the County's contracted vendor for the reassessment project, Tyler Technologies, at (302) 854-5274 or email SussexCountyDE@tylertech.com.
Tyler Technologies is conducting the parcel-by-parcel reassessment project countywide, using aerial photos and performing site visits to evaluate each property and any improvements. Survey teams began canvassing the county in late 2021, and, at present, have reviewed about two-thirds of the approximate 190,000 parcels in Sussex.
All properties are being evaluated and re-calculated based on current industry-accepted methodologies to produce new assessments that will reflect their true value in money, a requirement under Delaware law.
For more information on the Sussex County reassessment project, visit https://empower.tylertech.com/Sussex-County-Delaware.html.
###
Media Contact
Chip Guy, Communications Director