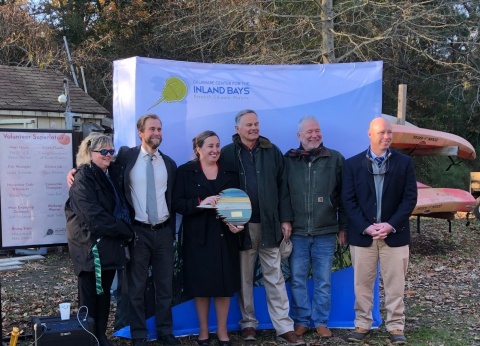 Georgetown, Del., Nov. 16, 2018: Delaware's Inland Bays have a friend in Sussex County.
The Delaware Center for the Inland Bays on Friday, Nov. 16, 2018, announced it has awarded Sussex County government its 'Friend of the Bays' honor for the County's work over the past 40 years to promote and build centralized wastewater service to communities surrounding the Inland Bays. The award, which has been handed out since 2005 to individuals, groups and public officials for their work in support of the bays, is a first for the County government.
The award recognizes efforts by past and current County Councils and staff to remove, replace and/or prevent tens of thousands of individual, less environmentally friendly septic systems within the watershed, thereby improving water quality and the general health of the Indian River, Rehoboth, and Little Assawoman bays. The water bodies span 32 square miles within eastern Sussex County, and drain a watershed 10 times their size.
"Next to public safety and land use, public wastewater is among the County's most important functions and, frankly, it's been one of our greatest achievements," said County Administrator Todd F. Lawson, noting the County, since taking on centralized service in the 1970s, now serves more than 70,000 wastewater customers, mostly within the Inland Bays watershed. "We are honored to receive this award, and look forward to our continued work, in partnerships like those with the Center for the Inland Bays, to safeguard the environment and provide the highest-quality service to our citizens."
###
Media Contact
Chip Guy, Communications Director