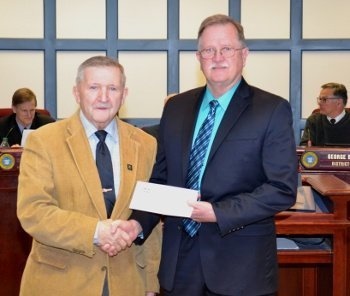 Sussex County Council on Tuesday, Jan. 28, 2014, accepted a check for more than $11,760 from Delaware Electric Cooperative for 'capital credits' -- essentially profits that are returned to member-owners of the utility co-op -- for 1995. Presenting the check to County Council Vice President Sam Wilson, left, is DEC President Bill Andrew. The money will return to the County's General Fund.
The credits are a return-on-investment to member-owners of the power system for capital spending that occurred nearly 20 years ago, and are part of a larger, overall rebate of $3 million issued to customers of the cooperative.
Delaware Electric Cooperative is a member-owned electric utility serving 84,000 member-owners in Kent and Sussex counties.