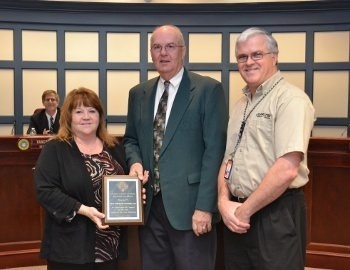 Sussex County awarded certificates and plaques on Tuesday, Feb. 4, 2014, to more than a dozen groups for their participation in the 2013 Caroling on The Circle food drive program. In all, various schools, organizations, and businesses worked together, with the help of County employees and the general public, to collect more than 27,000 items for the area's less fortunate.

Pictured with County Council President Michael H. Vincent, center, are PATS Aircraft Systems representatives Teresa Williams, left, and Bob Shinholt, right. PATS was the top organization, collecting more than 9,000 items for the Caroling program.

Thank you to all who participated!