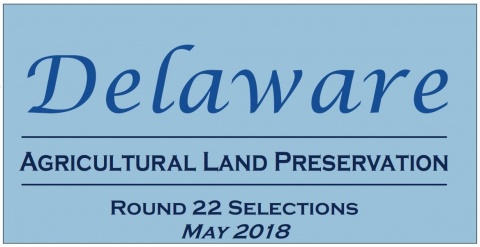 Georgetown, Del., June 5, 2018: Sussex County is helping plant the seeds of preservation in a deal that will protect Delaware's agricultural past for future generations.
County officials on Tuesday, June 5, announced Sussex will take part in the latest round of easement purchases through the Delaware Agricultural Lands Preservation Program, a State-led initiative to protect working farms and keep agriculture viable amid a changing economic and cultural landscape. Delaware officials announced the latest round results on May 31.
The County will contribute more than $536,000 as its share in the roughly $1.3 million price tag to protect 10 farms and nearly 800 acres in Sussex. In addition to the County's contribution, which comes from County reserves, the program will utilize funding from the State and federal governments to make the easement purchases. Property owners will retain ownership of their lands, but will forgo any rights to subdivide and develop the parcels in the future.
This is the first time the County has participated in the Delaware farmland preservation program since 2007. Since 2003, including this most recent effort, the County has contributed approximately $2.1 million to protect more than 2,800 acres of farmland in Sussex.
County Council President Michael H Vincent said the County is proud to be a returning partner.
"We have heard from our constituents and the ag community, particularly during our comprehensive planning process, that we need to do more to keep agriculture healthy in Sussex County," Mr. Vincent said. "By partnering with the State, we believe this is the best way to invest in our future so that we can preserve an important part of Sussex County's past."
###
Media Contact
Chip Guy, Communications Director