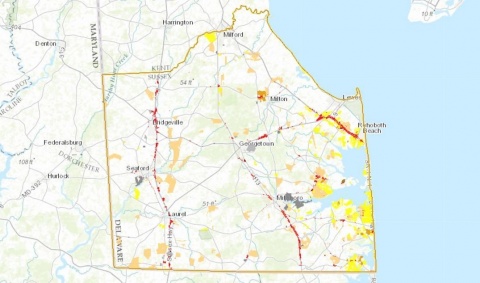 Georgetown, Del., Jan. 31, 2017: Sussex County is mapping a new course when it comes to showing all the shades of land use in the county: digital in place of paper.
County officials on Tuesday, Jan. 31, 2017, unveiled a new digital zoning map of the county – the first comprehensive electronic version created since the original paper map was adopted in the early 1970s – that shows the county's more than 160,000 parcels, their zoning, and other important land use data, including aerial images, addressing, lot dimensions, and various approvals. Staff from the County's Planning & Zoning and Mapping & Addressing offices worked with geographic information systems (GIS) specialists from the Eastern Shore Regional GIS Cooperative and Salisbury University in Maryland for the past 18 months to digitize and update the zoning map, which shows all of the County's 13 zoning categories.
"This map offers the public the most up-to-date information in an easy-to-use format that's clear, accurate and always accessible," said County Administrator Todd F. Lawson, who demonstrated the new digital map during the County Council's regular weekly meeting. "This latest offering furthers the County's efforts to be more efficient in serving our constituents."
The map leaves in place all current zoning and approvals that exist within the county, Mr. Lawson stressed. The new map unveiled Tuesday will replace the paper map drawn and adopted in 1971, and amended over the past 46 years.
County Council will consider the map for adoption following public hearings this spring. To view the map, visit https://maps.sussexcountyde.gov/OnlineMap/Map.html.
###
Media Contact
Chip Guy, Communications Director