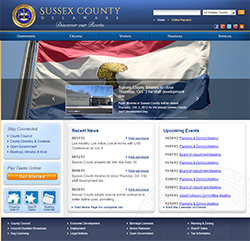 Georgetown, Del., Oct. 29, 2013: Sussex County has undergone an extreme makeover of sorts with a fresh new look and feel to its virtual presence on the Internet.
County government on Tuesday, Oct. 29, 2013, unveiled a newly designed website that features a more polished, cleaner appearance, a consistent, branded design, improved functionality across computer and mobile devices, and a streamlined grouping of information to help users find the services and resources they need. The nearly year-long project is the first major revamp of the County's online presence in more than five years.
County Administrator Todd F. Lawson made the website redesign among his top priorities upon joining the County in 2011, calling for a streamlined and more intuitive experience that could quickly and efficiently direct the public to local information and services.
"The County website is a gateway for an increasingly tech-savvy public. Our residents and guests lead very busy lives, and they either don't have the time or don't want to drive to a building just to watch a meeting or file for a license," Mr. Lawson said. "They shouldn't have to. In this digital age, consumers are shifting from so-called bricks-and-mortar merchants to online retailers, and that same dynamic is happening in the government sector, too.
"More than ever the public is accessing government information and services online, without the need to set foot in a building," Mr. Lawson said. "We believe we're giving the public a better experience with this digital renovation to the County's online presence."
Traffic on the County website has grown by more than 63 percent in the past seven years, from an average of approximately 78,000 site visits per month in 2006 to more than 127,000 site visits per month, on average, in 2013. That illustrates how critical an effective online portal is for users who want to quickly access information and services, Mr. Lawson said.
The overhauled website, designed by Digital Eye, LLC with support from the County, is the fourth major redesign of the County's online presence since the first site was launched in the mid-1990s. At the time, the website featured little more than basic contact information.
In the years since, the County has added a host of other amenities to its online sites, including online payment options; agendas, minutes and meeting packets; budgets and financial reports; searchable property records; interactive maps; and streaming broadcasts and archived audio of County government meetings.
One of the most important features of the new site is cross-functionality regardless of device (e.g. PC, Mac, tablet, and smartphone) as more Americans use a variety of devices to access the Internet. "Website traffic from mobile devices represents about 15 percent of the website traffic today, and that will only go up over time," said Thomas E. Glenn, director of the County's Information Technology department, which manages the site. "We wanted an optimized site so the experience is consistent, especially for mobile device users."
Other improvements to the site include:
Revised navigation bars with a simplified, more intuitive grouping of topics;
A consolidated online payments center for customers to easily pay taxes, as well as sewer service and connection charges;
An expanded index of frequently requested County services, as well as links to services provided by the State, federal and non-profit agencies;
An expanded news and events section on the front page to highlight recent and upcoming events in County government;
Incorporation of the Google Translate service, which allows non-English-reading users to utilize the site;
Sussex County's online address remains the same at sussexcountyde.gov.
###
Media Contact
Chip Guy, Communications Director