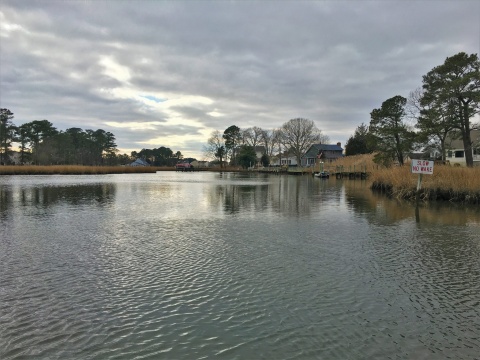 Georgetown, Del., Jan. 31, 2023: Sussex County is digging down to dredge up safer boating on a local waterway.
County Council on Tuesday, Jan. 31, 2023, approved a memorandum of understanding with the Delaware Department of Natural Resources and Environmental Control (DNREC) to form a funding partnership for the upcoming White Creek dredging project near Bethany Beach. The project would deepen the navigation channel of the creek that links the Indian River Bay and Assawoman Canal, both popular waterways among recreational boaters in eastern Sussex. The $4.7 million project is slated to begin in early February and be completed by March 31.
As part of the agreement, Sussex County will contribute $1 million to the project, using funds from the County's accommodations tax. Enabled by Delaware lawmakers and implemented by the County in 2020, the accommodations tax is a 3 percent levy assessed on all lodging at hotels, motels, and tourist homes within unincorporated portions of the county. It is similar to, but separate of, the accommodations tax many municipalities have utilized for years.
Revenue collected through the County's accommodation tax is earmarked for various projects and programs, such as beach nourishment, waterway dredging, economic development, and water quality/flood control. So far, it has generated some $1.9 million in revenue to the County.
"This is exactly the kind of project that is intended to benefit from the accommodations tax," Sussex County Council President Michael H. Vincent said. "Thanks to tourism dollars pumped into our local economy, we can reinvest some of that into projects that benefit the public at large."
###
Media Contact
Chip Guy, Communications Director