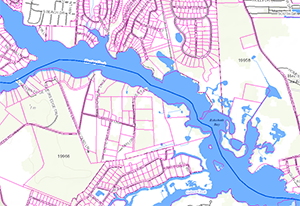 Sussex County is proud to introduce enhancements to its popular web-based mapping portal. The Sussex County Mapping Applications portal, launched in July 2015, is a geographic information system-based (GIS) offering that pulls a variety of information into an interactive mapping product on the County's website, including up-to-date zoning information, flood zones, 911 addresses, election districts, school districts, library locations and other data.
Highlights of the latest release include:
Compatibility across all platforms on mobile devices, both tablet and handheld friendly
New search capabilities:

Searching parcels by subdivision and searching addresses by tax ID
Search address by tax ID even with an assessment unit number

New printing layouts and formats:

Only get the info in the legend that is relevant to the mapping selections and the layers that are turned on vs. the blanket template
The attribute information displayed on the map shows up on the layout as well
To learn more, visit the mapping portal. For questions, assistance, or to make suggestions, please contact the Mapping & Addressing office at (302) 855-1176 or email Megan Nehrbas.