All County government facilities are closed to public access until further notice.
For customers who need to submit physical copies of plans and permits, a drop-off box is available in the County Administrative Offices building lobby, 2 The Circle, Georgetown. Drop-offs will be received 8:30 a.m. to 4:30 p.m. Monday through Friday. For those individuals dropping off documents, all submissions shall include an intake form. Please fill out, print, and include with your submission when dropping off documents.
For more information, please call (302) 855-7718.
For information on how other County business is being handled, please see Sussex County Operations Coronavirus Updates.
---
Responsible for all engineering design, construction and operation and maintenance of public utilities for the unincorporated areas of Sussex County. This includes waste water treatment and disposal plants, public water systems, Delaware Coastal Airport, Industrial Park, lighting districts and suburban community improvements.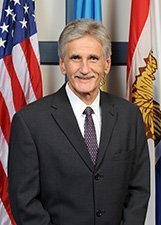 Contact Information
County Engineer
Hans Medlarz
Address
Sussex County Administrative
Office Building, 3rd Floor
2 The Circle, P.O. Box 589
Georgetown, DE 19947
Phone
(302) 855-7718
Fax
(302) 855-7799