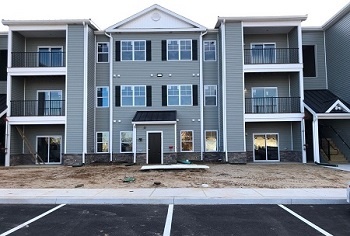 After 10 years, Sussex County's first affordable rental project under the Sussex County Rental Program (SCRP) is well under construction and preparing for lease-up. Twenty-six (26) of the 168 units at Coastal Tide Apartments in Lewes will be reserved for the SCRP. To provide a fair opportunity for all applicants, the County will utilize a lottery system to generate a waiting list.
For information about eligibility, program requirements, and the lottery application please visit our website at: https://sussexcountyde.gov/sussex-county-rental-program. Please note that the lottery will ONLY be open and available for application from Tuesday, December 15, 2020 through Friday, January 22, 2021.
For information about the Coastal Tide project in Lewes and units offered, please visit the website at: http://www.coastaltideapartments.com/. If you do not qualify for the SCRP and still wish to apply for one of Coastal Tide's market-rate units, you may do so using the property management contact information on their website.
Contact Brandy Nauman, Fair Housing Compliance Officer and Housing Coordinator at (302) 855-7779 or bnauman@sussexcountyde.gov with any questions about the SCRP.