SPECIAL YOUTH GUN HUNT
SATURDAY, NOVEMBER 6, 2021
Sussex County will hold a youth gun hunt on Saturday, November 6th, 2021 at the Wolfe Neck Waste Water Treatment Facility as part of the hunting program authorized by DNREC Parks and Recreation. All hunting on this day will be reserved for licensed or licensed exempt youth hunters who are accompanied by a licensed adult age 21 or older.
Typically, the Wolfe Neck Hunting Program is archery only but with special permission from DNREC, we are able to provide an opportunity for youth to participate. Please see the Youth Hunting Information document below for a description of the Delaware Youth Hunting program.
14 stands will be available and determined by a drawing one hour prior to the hunt. There will be a morning and afternoon opportunity to draw a stand location. To be eligible, hunters and accompanying adult must check in prior to 6:00 AM or 2:30 PM and register. A successful draw only provides the stand for the hunt at that time (morning or afternoon) and not both.
Hunters will be escorted to their stand by staff ½ hour before shooting time and picked up at 10 AM. Following the drawing, an afternoon hunt will begin at 3:30 and hunters will be picked up ½ hour after legal sunset.
All hunters and accompanying adults are required to follow Delaware State law, Fish and Wildlife regulations and Parks and Recreation regulations including any conservation and hunter access permissions required by the Cape Henlopen State Parks.
Additional conditions are as follows:
Wolfe Neck Staff will transport participants to and from the stand locations. Participants will not be allowed to walk to or from the stands for safety reasons.
400 square inches of hunter orange must be worn at all times (head, chest and back).
Participants should remain in the stand until the completion of the hunt except for dispatching or field dressing the deer.
Should a deer need to be tracked down following a shot, participants must wait for the hunt to finish and staff will assist.
The hunting program exists to provide opportunity and manage deer population. Please help by harvesting doe when possible.
If a hunter wants to donate a deer, there is a donation cooler located at the Redden State Forest Headquarters north of Georgetown.
All deer harvested must be registered before being transported from the facility.
The use of straight walled pistol cartridge rifles are restricted on State Park land. Shotgun or muzzle loading rifles are permitted for this hunt.
Staff will assist with the transportation of deer back to the parking area.
Participants should come prepared to stay in the stand until the end of the hunt.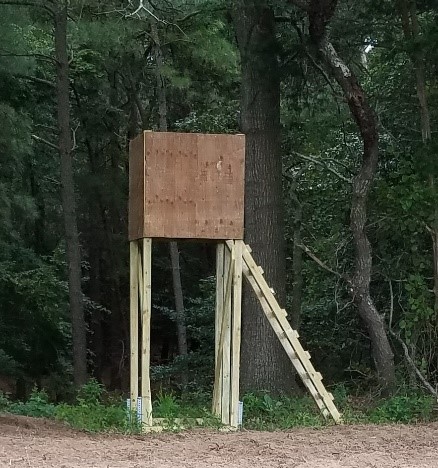 Stands available at the Wolfe Neck facility are safely secured to the ground and are accessed by a sturdy ladder. A bench style seat can comfortably accommodate two people. A seat pad is recommended for a long sit.
Participants must register and sign release of liability forms prior to the drawing. Questions can be sent to Government Affairs Manager Michael Costello at michael.costello@sussexcountyde.gov
The Wolfe Neck Wastewater Treatment facility is located at 36160 Wolfe Neck Road, Rehoboth Beach, DE 19971.
Official Times, November 6, 2021:
Sunrise: 07:33 am
Sunset: 5:54 pm
Clocks adjusted for Daylight Saving Time at 2:00 am Sunday November 7th