Norman A. Jones, Jr.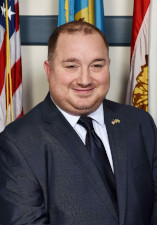 Norman 'Jay' Jones is Sussex County's Clerk of the Peace.
Born and raised here in Sussex County, Delaware, Jay attended school in the Milford School District until transferring to Lighthouse Christian Academy for his high school years, where he graduated with his high school diploma. Since graduating from high school, he has continued to live in and serve his hometown of Ellendale.
Jay has always been active in his community and as a public servant through volunteering, mainly with the fire service. He is still very active in the Ellendale Fire Company. In the past, he has held the positions of 1st Assistant Chief, 2nd Assistant Chief, Board of Director, Fire Captain, Fire Recorder, President, and Vice President. He is currently serving the 2019-2020 as DVFA President. He has been honored with many awards. In 2012, he earned the distinguished award of being inducted into the Delmarva Volunteer Firemen's Association Hall of Fame. He also serves at the county and state levels of the fire service.
Jay was elected to serve on the town council for the Town of Ellendale in 2010. Prior to that, he also served on the town's planning and zoning board. In 2014, Jay was elected Mayor of Ellendale, where he served until Jan. 3, 2017, when he was sworn in as the new Clerk of the Peace in Sussex County. The Clerk of the Peace is the head of the Marriage Bureau for the County government. The office is responsible for issuing marriage licenses, certified copies of marriage certificates, and conducting ceremonies in the office, as well as other locations all over Sussex County.
Jay continues to work on many volunteer projects around the county and state.