The Geographic Information Office has 4 distinct functions:
land records staff create, draw, and maintain County parcel maps
addressing staff provide street addresses to county parcels and maintain a routable centerline network
utility team converts and maintains utility networks
GIS administration develops and supports many work products and applications for various departments, including online mapping for the public as well as field mobility products.
Please feel free to contact our office at (302) 855-1176 if you have any questions that you did not find an answer to while browsing our website. Any of our qualified staff will be glad to assist you.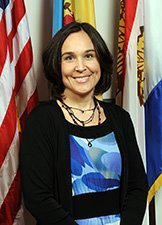 Contact Information
GIS Manager
Megan M. Nehrbas
Address
2 The Circle, 2nd floor
P.O. Box 589
Georgetown, DE 19947
Phone
(302) 855-1176
Fax
(302) 853-5889