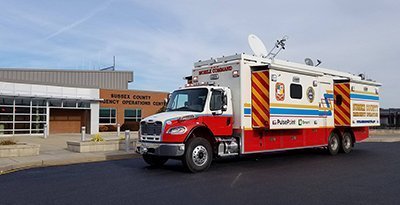 Sussex County Emergency Operations Center's newest tool to manage incidents and respond to disasters debuted on Sunday, February 4, 2018. The County's Mobile Command Unit is utilized to coordinate public safety personnel and manage incidents.
Approved by County Council in summer 2016, construction began in November of that year and was completed over the next year by Frontline Communications in Clearwater, Florida. The County took delivery of the new command unit in early January 2018, and staff spent several weeks installing final communications components, testing equipment, and training on how to use all the modern features on board.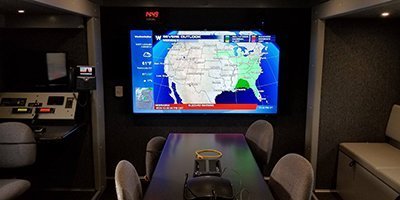 The new unit is 42-feet-long, and features two large work areas, each with 'slide-outs' to provide ample space for up to 18 total staff members and the necessary radio, telephonic, computer, and audio/visual equipment. At the front of the box (immediately behind the driver's cab) is a conference center with table and seating for six, a 72-inch video board capable of receiving satellite television, closed-circuit camera feeds, and video downlinks from aerial sources (e.g. police helicopter).
Also in the conference area are two terminal stations for an incident commander, as well as amateur radio support, complete with computer, radio, and telephone hardware. At the rear of the unit is the dispatch area for up to six dispatchers, with video boards and a mobile weather station, as well as the requisite computer, radio, and telephonic equipment.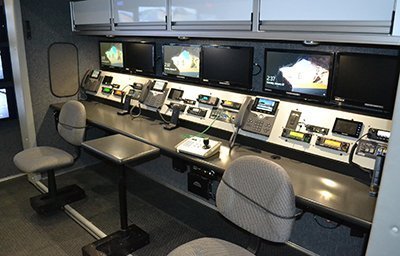 Outside the unit, the new mobile command unit is supported by a 42-foot-tall telescopic communications mast with 20x pan/tilt/zoom HD camera, satellite dishes, exterior video monitor and input/output ports allowing the MCU to connect to other public safety vehicles on scene during a major incident. Powering the MCU is a 30kW generator and 100-gallon fuel tank that can give the vehicle more than 24 hours of independent operational time.
Added up, the mobile unit is a miniaturized version of the County's EOC/911 center on wheels, giving emergency officials state-of-the-art means to be mobile to anywhere in Sussex County at a moment's notice, set up in just under 15 minutes, providing services during large-scale events, whether planned festivals or unexpected weather emergencies.
The new MCU replaces an older vehicle that served the County since 2000. Sussex County is proud and excited to have the new MCU available and always at the ready to serve the people of our great community!