Plan Requirements
Inspection Fees
F.A.Q.
Inspection Fees
Plan review and inspections fees are calculated by multiplying the total construction value of the entire building, times .005.
Additional Information F.A.Q.
What is Manual J, and Manual S
Manual J is the protocol used for determining the amount of heating and cooling that a home requires to keep its occupants warm in the heating months and cool and dry in the cooling months.
Manual S is used to size and select the heating and cooling equipment. The goal for equipment selection is to install heating and cooling systems with the same heating and cooling capacities as the heating and cooling loads of your home.
Below are the accepted approved software programs. For more information, visit ACCA.
Powered by ACCA Manual J - Full Residential Load Calculation
Manual J Block Load Compliant - Block Load Only
Powered by ACCA Manual D - Residential Duct Design
What is Rescheck
A REScheck report is an energy code compliance analysis that documents that your residential building will meet or exceed the energy conservation standards developed by the U.S. Department of Energy Office of Building. The REScheck report includes Certificates of Compliance and Compliance Checklists consistent with the International Energy Conservation Code (IECC).
For more information on Rescheck, visit energycodes.gov.
page body picture: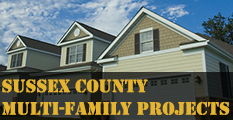 Sussex County considers a Multi-Family project as either a Townhouse or a Duplex. A Townhouse is a building constructed in a group of three (3) or more attached dwelling units with a 2 hour fire separation wall in which each unit extends from the foundation to the roof and with a yard or public way on at least two (2) sides. A Duplex is building containing two (2) dwelling units with a vertical fire separation wall or a horizontal floor/ceiling fire separation and with independent exits.