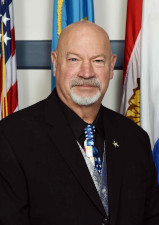 Robert T. Lee is Sussex County's Sheriff, responsible for overseeing a County office that fulfills an important role in carrying out the orders of the State court system, as well as conducting sales of property for non-payment of taxes and foreclosure.
Elected in 2014, Sheriff Lee brings more than 35 years of law enforcement and investigative experience to the office. A native of Cadis, Pa., where he grew up on his family's dairy farm, Sheriff Lee began his career with the Metro Transit Police in Washington, DC, before moving to Delaware in 1977 to take a position with the Seaford Police Department. He would go on to serve the City's police force in a variety of positions for the next 25 years, including patrol, special operations, criminal investigations, and as part of Seaford's first motorcycle unit. He retired as a detective/sergeant in 2002, then transitioned into a new role as a state detective for Sussex County in the Delaware Attorney General's Office, working on special task forces, as well as extraditing fugitives back to Delaware, before retiring in 2012.
A graduate of American University in Washington, DC, Sheriff Lee has received extensive training over the years, including through the Federal Law Enforcement Training Center and the Delaware State Police Academy.
Now in semi-retirement, Sheriff Lee spends his days farming, raising pheasants and bobwhite quail for area sportsmen, and growing some 40 acres of specialty corn for deer hunters.
A resident of the Seaford, Del., area, Sheriff Lee and his wife, Lori, have six adult children between them. He remains active in the community coaching sports, serving in advisory roles for local school and youth programs, and in his spare time he enjoys restoring antique John Deere equipment.