Scott Dailey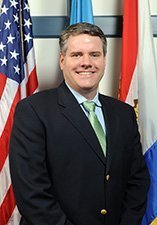 Scott Dailey is Sussex County's Recorder of Deeds, elected to the office in November 2010. Scott has been a Sussex County resident since 1999, and a Delaware resident since 1994.
Born in the District of Columbia and raised in Rockville, Md., Scott attended the University of Delaware. Scott graduated in 1994 and became a high school English teacher. Scott left teaching behind, though, to move to Sussex County.
Scott also has worked as a volunteer and paid staff member for Young Life, a Christian youth organization. In addition to his elected duties, Scott is the managing partner of Statera Homes, a Sussex County-based home building company. Scott is also a licensed REALTOR®.
Scott lives with his beautiful bride, Deniene, near Lewes. The couple has three children.