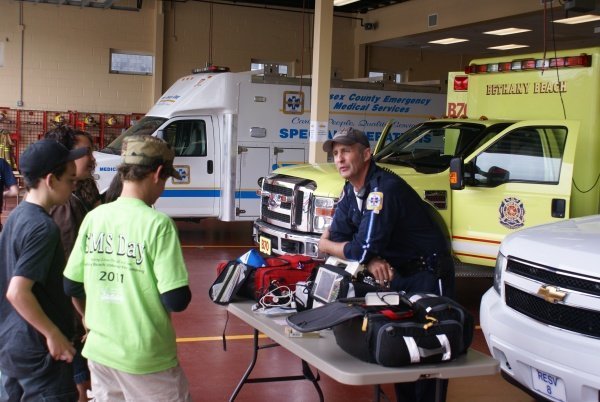 Sussex County provides EMS coverage for a number of mass gathering events throughout the county each year. In order to provide medical coverage during these events, Sussex County EMS developed a Special Events (SET) and Bike Medic Team during the spring of 1999.
Special Events and Bike medics provide a rapid emergency medical response to sick and injured persons when conventional means are not possible due to such things as terrain, foot and vehicle traffic.
Sussex County EMS Special Events and Bike Teams are present at more than one hundred events each year, including 5K and 10K races, fireworks displays, parades, festivals, and other community events. The bicycles are equipped for emergency response. Each bike costs $1000.00, and is outfitted with specialized advanced and basic life support equipment, including monitors/defibrillators, oxygen, medications, bandages, and intravenous fluids.
Special Event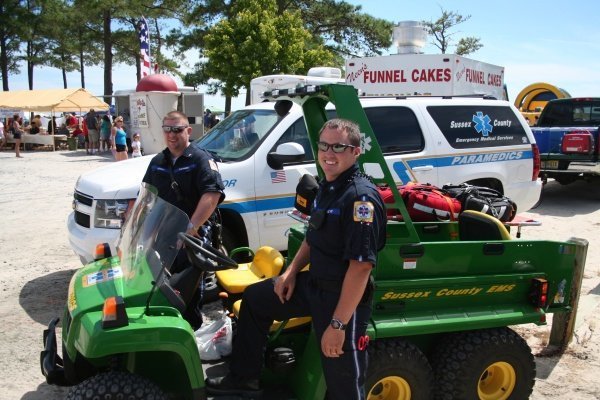 Sussex County EMS Special Event Paramedics also use all terrain vehicles for providing medical care, and in some cases, transportation of patients during special events. The type of vehicle used, and number of paramedics required, is dependent on the size and nature of the event.
Each Bike Team member attends rigorous training led by our own specially trained bike instructor who is certified by the International Police Mountain Bike Association (IPMBA). The bike instruction provided includes techniques such as operating in heavy traffic, evasive maneuvers, biking "rules of the road," and maneuvering around large crowds and obstacles.
Bike and Special Event medics are able to provide prompt advanced life support until a conventional Paramedic unit arrives on scene. The Sussex County EMS Special Events Team has been used at numerous events over the last several years, including:
Fourth of July Fireworks displays in Rehoboth Beach, Laurel and Bethany Beach
Riverfest in Seaford and Milford
Apple Scrapple Festival
Punkin Chunkin
Little League World Series
Return Day
Polar Bear Plunge
Rehoboth Marathon
First Responders Marathon
Bike to the Bay
For additional information on scheduling the Special Events and/or Bike Medic Team for your event, contact the Special Operations Coordinator Glenn Marshall at (302) 854-5255 or by email.
Glenn Marshall
Sussex County EMS
Special Operations Coordinator
(302) 854-5255
gmarshall@sussexcountyde.gov
---
Photos